The Heat is Here!

Is your old air conditioner going to be able to keep up all summer?
This July save $500 on all Lennox High Efficiency Air Conditioner models.

Call us today to speak to a Comfort Advisor about your needs!
Qualify for Rebates
If your A/C is not getting the job done, now is the perfect time to replace it. Depending on the model you select, you will also be eligible for a variety of rebates. Call us to see what you qualify for, or read more:
Our wide range of air conditioners features the perfect product to suit your needs and budget. From affordable, dependable models to state of the art equipment leading the industry, we have it all. Our Comfort Advisors are all experienced tradespeople who can suggest the perfect model for your home and design a system around it. Our fully licensed technicians will execute the installation with precision and cleanliness.
The Results You Want
Relax, play, and sleep in cool contentment at home
Balanced temperature and humidity control
Energy Star® qualified, high efficiency equipment
Ultimate home comfort
Environmentally friendly
Savings on energy costs
Everything You Need
Wide product range (ductless, compact, PTAC styles)
Enhanced air purification add-on options
Mobile connected smart thermostat options
Extended parts and labour warranty
Financing options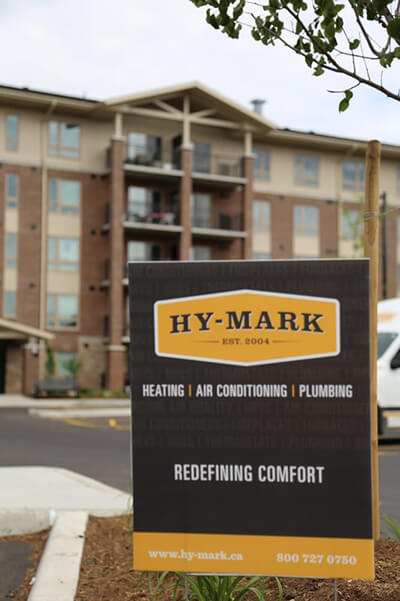 Our Outstanding Service
When you use Hy-Mark, your plumbing and HVAC systems will only be installed and serviced by licensed professionals. We back our equipment with labor warranties because we take pride and confidence in our work. After installation, we will be there to take care of your equipment for years to come.
The Hy-Mark Difference
It's all about innovation. Hy-Mark specializes in cutting-edge air quality improvements to help you and your family feel comfortable at home. When it's time to build the perfect air quality system, we partner with leading manufacturers of highly engineered products, to help you maximize comfort in your home.

Our Top Brands